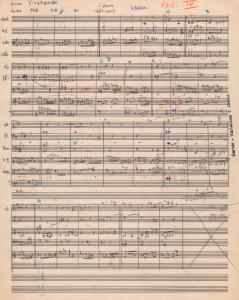 Elliott Carter Special Grant Program
We are not accepting applications for Elliott Carter Special Grant Program at this time.
Guidelines
Eligibility
Funds are available for Special Projects involving the music of Elliott Carter for professional performing ensembles, presenting organizations, and other organizations with plans to carry out a substantial project involving the music of Elliott Carter. The Elliott Carter Special Grant Program also provides Project Support for first time recording projects relating to the music of Elliott Carter.
Applicants must meet the following requirements:
Proposals may be submitted by non-profit professional performance ensembles, presenting institutions and non-profit or commercial recording companies. Non-professionals, students and individual performers are not eligible for support.
Applicants must have performance history as an ensemble or presenter of at least two years at the time of application.
Eligible organizations:
Chamber sized ensembles of any instrumentation
Chamber orchestras
Symphonic or other full-sized orchestras
Opera companies
Dance companies and/or ensembles (see note below)
Vocal ensembles and choruses
Presenters
Festivals (see note below)
Presenter/ensemble hybrids
Commercial Recording Companies
Non-Profit Recording Companies
Projects sponsored by universities and similar educational institutions are not eligible. For instances in which a proposal is made in support of an independent professional ensemble in residence at a university, but the ensemble does not have separate 501(c)(3) status, the university may serve as the fiscal sponsor, but the ensemble shall be the applicant.
Special note for dance applicants: The Carter Special Grant Program's primary focus for dance applicants is on the quality of the music and the performance, which must be by live musicians, not the choreography. However, the choreography must enhance the performance of Carter's music.
Project support for presentations being given in a season after the season during which support is applied for will be considered, but funding generally will not be released until the beginning of the season in which the presentation will occur.
Funding Provisions and Review Procedures
The following criteria will be applied in evaluating grant proposals:
For ensembles: artistic quality and ability of the ensemble to perform Elliott Carter's music at the highest standard, as determined from the work samples, and its overall repertoire/proposed concert program.
For presenters, or organizations that are otherwise involved with performances: are the ensembles and Elliott Carter repertoire being presented of outstanding artistic quality?
Demonstrated financial ability to carry the proposed project to completion.
Will this project encourage and improve the public knowledge and appreciation of Elliott Carter's music?
How to Apply
Although the Carter Special Project program is separate from the Amphion Foundation's grant programs, applications are made through the Amphion on-line grant making system.
If your organization does not already have an account on the Amphion Foundation online system:
You will need to create a new account. We will approve new accounts as quickly as possible, but please allow one to two business days for approval.
If your organization already has an account on the Amphion site:
Then click on the Start a New Application button at the top of this page to begin the online application process. You may work on your proposal and save it as you go along. It is not necessary to complete the application in one session. You will need to supply the following information:
Organization Information
Contact information
A copy of the IRS determination letter confirming tax exempt status under Section 501(c)(3) of the Internal Revenue Code and that the applicant is not a private foundation. If the applicant organization is not based in the United States, submit a letter from a lawyer in the home jurisdiction of the applicant confirming its equivalence to a publicly funded 501(c)(3) organization.
Federal tax ID number (for U.S. applicants)
Applicant Information
Type of ensemble (if applicable)
Type of presenter (if applicable)
Recording Applicant (if applicable)
Mission of the organization
Proposal
Indicate the amount requested and the total cost of the project.
Please provide a description of the project.
Please provide a project budget and an itemized list of other sources of income for the project with the amount of support from each source. Also note whether support from each source has been secured or is prospective funding.
History of the organization and information on the principal artistic personnel and/or ensemble members.
Description of the audiences that are served, including size, age groups, and geographic regions.
Musical Materials
Three recordings of Elliott Carter works or comparable contemporary classical compositions performed by the ensemble or a representative sample of the ensemble(s) to be presented (for presenter applicants). 2 of the 3 mp3 music samples must be excerpts of Elliott Carter works.
All musical samples should be recorded within the three performance seasons immediately prior to the application date (i.e., for the 2023 round, within the 2020-2021 season, 2021-2022 season, and 2022-2023 seasons). Each recording should be between 3 and 5 minutes in length (excerpts are acceptable).
If the applicant does not have two Carter samples from those years, it may submit its most recent samples from the preceding four performance seasons. If the applicant has no Carter samples from the last four seasons, please contact the Grants Manager before submitting an application.
Note: For projects other than recording projects, please submit recordings of live performances and not edited studio sessions unless no live recordings are available.
For recording projects, please submit the final master or closest available version to a final master.
Musical examples should demonstrate the performance quality of the core members of the ensemble playing together in representative repertoire, rather than feature extended soloistic passages.
For each recording submitted, provide the title of the work, names of the composer and performer(s) and date of the performance.
For 1 of the 3 recordings a score in PDF format must be supplied, and must be marked at the point at which listening is to begin. If you cannot acquire a PDF score of any of your examples, please contact the Grants Manager for advice.
For opera and dance projects, the Carter Special Project Fund strongly encourages, but does not require, video work samples of the company, any choreographer and the project's director. Video samples should involve live performances of contemporary music.
Work samples should represent the nature of the applicant's Carter Special Project activity to the best of the applicant's ability. If available work samples do not strictly meet the guidelines' requirements, contact Grants Manager for advice.
Application Deadline
Due to the competitive nature of the special project request process and limited resources of the Elliott Carter Special Project Fund, requests will be reviewed twice annually. Notification will be sent via email on a rolling basis. For a project where the performance will occur within six months of the application date, the applicant may request expedited handling.
Please note that the Elliott Carter Special Project Fund only makes grants to US 501(c)(3) entities or foreign charitable entities with proof of equivalent status. The Fund does not make direct grants to individuals or to for-profit entities such as commercial recording companies. Such entities should consider applying via a 501(c)(3) fiscal sponsor if eligible.
IMPORTANT: You are responsible for complying with all legal and contractual requirements that may apply to the creation of your materials. The Amphion Foundation hereby disclaims all legal responsibility in connection with your submissions. In case of questions, consult your legal advisor.
Digital Millennium Copyright Act ("DMCA") Policy
Inquiries
Prospective applicants are first encouraged to read the Frequently Asked Questions. If your question is not answered there, please contact the Grants Manager prior to the time of application.
Telephone: 212-461-6956
E-mail: grantsmanager@amphionfoundation.org
General FAQs
What is the average amount of a grant?

In general, grants will range between $1,000 and $7,500, although larger grants may be awarded to larger performing organizations with an extraordinary commitment to contemporary concert music or a particularly significant project.
Our proposal was not funded. Can you tell us why?

Programs are very competitive. Unfortunately, each year many worthy projects cannot be funded simply because they exceed our available resources. You are welcome to contact the Grants Manager to schedule a brief phone call for feedback about how your proposal could be improved in the future.
My organization is the lead applicant in a consortium project. Does it have to be a service organization, a presenter or a performing ensemble in order to apply?

The lead applicant in a consortium project must have non-profit status, but doesn't need to fit the criteria for service organizations, presenters or performing ensembles.

Consortium projects that support composers and performers through grants, residencies, training programs, etc. or aid in the preservation and dissemination of contemporary concert music, or projects that involve organizing and presenting live performances of contemporary concert music are eligible for support.  
When will decisions be announced?

Award decisions will be announced by the end of February following the September 30 deadline.

Please do not contact the Foundation for grant decisions.
Where are the guidelines for the Amphion grant?