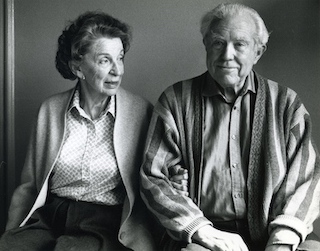 About the Foundation
The Amphion Foundation, Inc., founded in 1987 by Elliott and Helen Carter, was established to encourage the performance of contemporary concert music, particularly by American composers, through support to performing and presenting organizations that have demonstrated sustained artistic excellence, in addition to service organizations. The Foundation's mission is carried out through its grant program.
The Foundation is also the principal legatee under the wills of Elliott and Helen Carter and has a special interest in supporting significant projects devoted to the music of Elliott Carter. For more information, please contact the Grants Manager.
For further information about the music of Elliott Carter, please visit www.elliottcarter.com.
Please visit this page for information about how to acknowledge the Foundation's support and download logos for use.